GP106 - Book Jamboree Gift Pack $165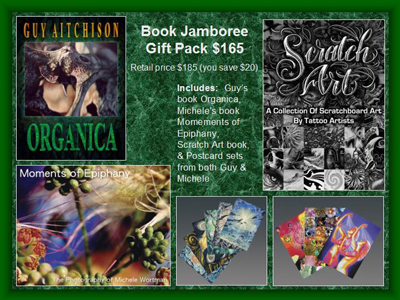 PRICE:$165.00

The Book Jamboree Gift Pack Includes:
1. Guy Aitchison's book Organica covers the last 18 years of his career and focuses in particular on the abstract, free-form imagery that he is known for. Showing tattoos and paintings side by side, the book aims to emphasize the strong connection that Guy has experienced between these two very different art media, and the wide variety of mutant offspring that have resulted from this innovative artist working between these two classic art forms. Organica is a high-quality, large-format glossy hardcover art book that will entertain and inspire artists and art collectors from all walks of life. It is 160 pages in full color and will include a CD containing translations into Spanish, French, Italian, German, Dutch, Russian, Serbian, Polish, Chinese and Japanese.
2. Michele Wortman's book Moments of Epiphany showcases her personal favorite choices from her vast archive of abstract and nature photography that she has shot over the past decade. It is presented in a large-format, horizontal layout in an archival hardcover glossy volume. Every square inch of its full-color 160 pages is alive with color and texture. Although it features photos of some recognizeable subjects, the majority of the book leans toward a form of hallucinatory abstract realism that will bewilder and astonish the viewer. Moments of Epiphany includes a 74 minute CD soundtrack, from Michele's musical project Sunchannel, that was written specifically to accompany the imagery in the book.
3. In the new book Scratch Art, this medium is explored in depth by around 200 tattoo artists, using tools ranging from steel wool to tattoo needles. The rules: None. Any style, any subject. The result is a 272 page powerhouse of amazing art by a long list of today's leading tattoo visionaries including Aaron Cain, Bob Tyrrell, Nick Baxter, Jon Clue, Filip Leu, Timothy Hoyer, Michele Wortman, Guy Aitchison and many others. This book is a perfect addition to your home or studio art collection; with its pages representing over 2000 hours of work, it's a book worth picking up and flipping open again and again.
4. Guy's 6-piece postcard set featuring the following paintings: FlameCoil, BigCoil, PlantForm, Mechform, Aquatic Microscopic, and Solar Meditation. The 4.25" x 6" cards are printed on archival stock paper and individually protected by a plastic sleeve. And, Michele's 3-piece postcard set featuring Wortman's: From Within, Cosmic Grid, and New Beginnings. The 4.25" x 6" cards are printed on archival stock paper and individually protected by a plastic sleeve. $165 Retail price is $185 (you save $20)
Shipping = $15 US, $30 Canada, $45 Other Countries, Shipping for each additional item is half-price.
Subscribe to our Youtube Channel for all our latest video updates
©2013 Hyperspace Studios. All rights reserved.
Website powered by TattooNOW