Reinventing The Tattoo: Book and DVD combination package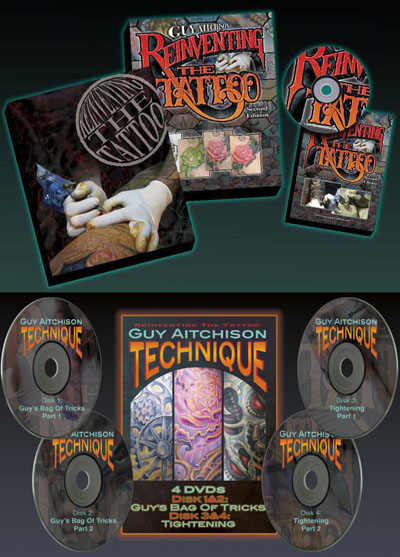 PRICE:$425.00


Hardcover 368 page book plus 5 DVDs, one which is directly linked to the book's text and four which are stand-alone teaching material related to the book's overall curriculum $425 save $25.00!
For a decade and a half now Guy Aitchison has been perfecting his Reinventing The Tattoo curriculum, which teaches some of the fundamentals of artistic design in a way that can be applied toward making your tattoo work stronger, more dynamic, and more unique. It aims to balance understanding of artistic essentials with cutting-edge technical knowledge to give students a broad base of understanding toward being better artists across the board.

In 2009, Guy released his Reinventing The Tattoo book, in a deluxe 368 page boxed hardcover edition with a supplemental DVD. In this richly illustrated volume he starts by going over some of the essential artistic principles of good tattoo design such as flow and fit, contrast, positive/negative relationships, color theory, depth, lighting and other crucial design guidelines, This is followed by sections on everything from oil and acrylic painting to modeling to digital compositing, all with the goal of using these skills in a way that makes for better tattooing. The book then finishes off with a long technical segment including chapters with extensive video supplements.
Following from there, the latest installment in the Reinventing series is simply titled Technique. It's a four disk set that shows you closeup footage of the machine in action as Guy works through five different projects, presented in a concentrated format. The first two disks are a special edition cut of his Guy's Bag Of Tricks webinar, showing a project being done from start to finish as he answers a variety of questions from the audience. He goes into detail about the design preparation, palette and the equipment and methods he's using to bring the project to completion. The other two disks, Tightening 1 and 2, go into detail about finishing techniques, spotlighting four projects up close, with a voiceover describing every move in detail as he shows the line building, detailing, smoothing and other development on a variety of effects including floral, organic, mechanical, metallic and carved wood, with each piece showed healed so you can really see the kind of results that you can realistically expect from working with these methods.

This four disk set is about as technical as it gets. It's a natural follow-up from the material he teaches in the original Reinventing The Tattoo book and DVD set, and is intended for professional tattooists only, or apprentices working under the guidance of a professional. Each copy is serialized and provides access to streaming the high definition versions, and to the Reinventing forum, where you can discuss design and technique with other artists and try out the exercises and projects that Guy has posted there.
Subscribe to our Youtube Channel for all our latest video updates
©2013 Hyperspace Studios. All rights reserved.
Website powered by TattooNOW