Reinventing The Tattoo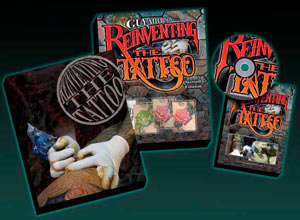 PRICE: varies

** BOOK SOLD OUT **
>> OUT OF PRINT <<
Thanks so much for your interest in "Reinventing the Tattoo" (book/DVD set - 2nd Edition). Unfortunately the book has been out of print for a few years and we are completely sold out. However, Guy has his 3rd installment in the series "Reinventing the Tattoo: Technique" (4 DVD set) available at our website. Here is the link:
http://www.tattooeducation.com/Tattoo-DVDs/item3886.html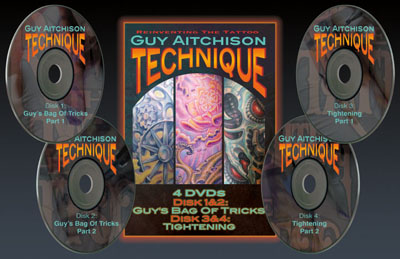 Guy also has available his most recent- 4th installment for "Reinventing the Tattoo" which is a digital version of the book for smart phones, pads, and computers. The digital version has taken the place of the book and will let him update and add information to "Reinventing the Tattoo" on a regular basis; instead of book form, which can't be changed regularly when new information is available.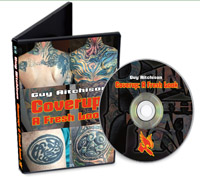 The new digital version has videos, including his newest cover-up DVD (a $100 value if purchased separately) along with guest artist chapters that have not previously been available. 'Cover-up' is in digitial format, located in the "cover-up" section of the digital version of 'Reinventing the Tattoo'.

Here is a link to purchase the digital version: http://www.tattooeducation.com/Subscriptions/item4083.html
Subscribe to our Youtube Channel for all our latest video updates
©2013 Hyperspace Studios. All rights reserved.
Website powered by TattooNOW