Alex De Pase: Tattoo Techniques Applied To Realism ON DEMAND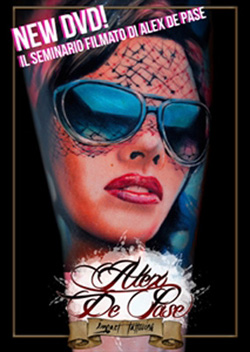 PRICE:$100.00

PLEASE NOTE: On demand videos expire 180 days from the time of purchase. After 180 days, you will no longer have access to the video.
Alex De Pase: Tattoo Techniques Applied To Realism DVD
Italian tattooist Alex De Pase began publishing his unusual portraits a few years back, and quickly caught the attention of the tattoo community; each of his eye-catching portrait pieces that hit the magazine stands has jumped out in terms of originality and technique. Alex has finally put his unique insight toward producing an educational DVD. Although he is known for his color realism, this seminar could potentially be helpful to any tattooist seeking to broaden their palette of rendering techniques. His approach combines a graphic boldness with a realistic sensitivity that can convey great subtlety and realism while still standing up to the test of time. In this disk he explains in detail everything from photo choices to stenciling to needle groups, pigments, and every step of the execution. Narrated in Italian with subtitles in English or German.
Subscribe to our Youtube Channel for all our latest video updates
©2013 Hyperspace Studios. All rights reserved.
Website powered by TattooNOW