Jeff Gogue: Size Doesn't Matter- A focus on hand tattoos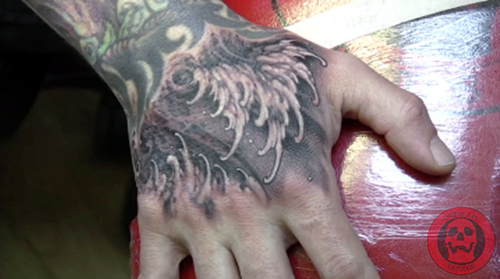 PRICE:$150.00

PLEASE NOTE: On demand videos expire 180 days from the time of purchase. After 180 days, you will no longer have access to the video.
Runtime: 3 hours and 39 minutes

Size doesn't matter… Hand tattoo webinar with Jeff Gogue
In this seminar I'll be tattooing Guy Aitchison's hand while taking questions from both him and the chatroom. We will consider transition, size, placement, and keys to make an intriguing, pleasing, insightful piece of work.
Whether I am laying out a: full back piece, a sleeve, a leg, a head or a hand I focus on the entire "canvas". Sometimes we overlook the fundamentals in our efforts to do something new and exciting but truth be told- do what you know works and get good at it and the excitement will follow in other ways. I use proven tools of design and flow keeping in mind exsisting work Guy has collected during his career.
During this webinar Jeff Gogue will be tattooing Guy Aitchison's hand while explaining his thoughts and answering questions. 
Subscribe to our Youtube Channel for all our latest video updates
©2013 Hyperspace Studios. All rights reserved.
Website powered by TattooNOW