Shoot It Right: A Photography Tutorial Just For Tattooers!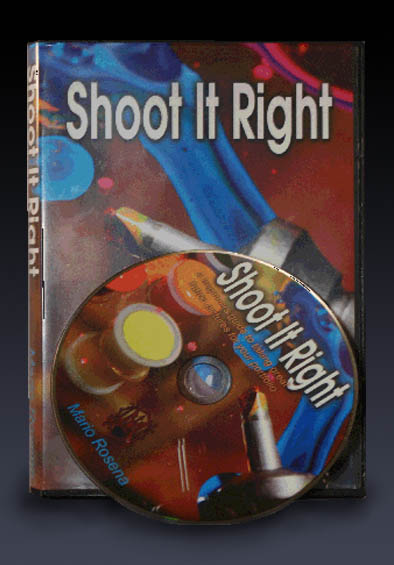 As long as I've been tattooing I've struggled to get good photos of my work. In some cases it takes a few attempts in different lighting conditions just to get something halfway decent, and once the client walks out the door you never know when you'll get another chance to re-shoot their piece. Even good photos usually fail to really convey the qualities of a well done tattoo. And these days many artists have all but given up, using just their phones to document even their most epic pieces.
I can tell you from experience that these low quality photos are a way of cheating yourself. In particular, often they are not good enough to submit to magazines or book projects. Taking that additional step to haul out a real camera and document a finished piece is always worth the extra few minutes. But even then, the pictures are often nt great, especially when shot at nighttime.
Finally, an experienced professional tattooer has produced a tutorial on getting good tattoo photos. Mario Rosena has a long history as a tattoo artist but has recently been working as a pro photographer as well, shooting for several publications including high-end fashion magazines and documenting events such as the X-Games. He brings all this knowledge together in Shoot It Right, a DVD and booklet combo that provides you with all the important information you need to finally get solid documentation of your work. Good photos help you to keep up in this competitive industry, and Shoot It Right presents you with the right tools to accomplish this. It's available now for a special rate at our online store!
Thanks, and we'll be in touch soon!
New Book Available: The Antennae Of Inspiration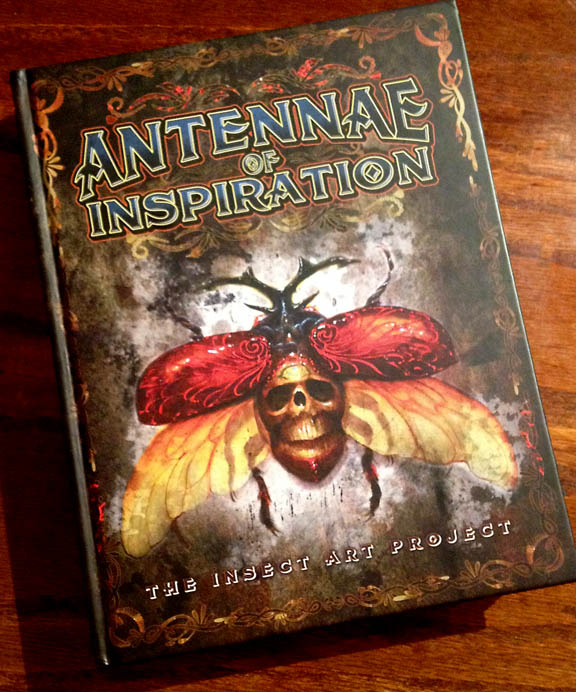 With all the new digital formats of e-books and video content coming along, it's always refreshing to see the release of a substantial new hardcover coffee table tattoo art book. Out Of Step Books, who recently brought us Eight Arms Of Inspiration- a creative and fun collection of octopus-related art- has just come out with an eye-popping new anthology book featuring over 1650 images from hundreds of artists. Antennae Of Inspiration picks up where Eight Arms left off and shifts its focus to the insects and other small creatures that live underfoot. It's a great subject that allowed this talented and diverse cross section of the art world to explore Nature in every direction and in every medium, including a large section of tattoos followed by works on canvas, paper and a medley of other art forms.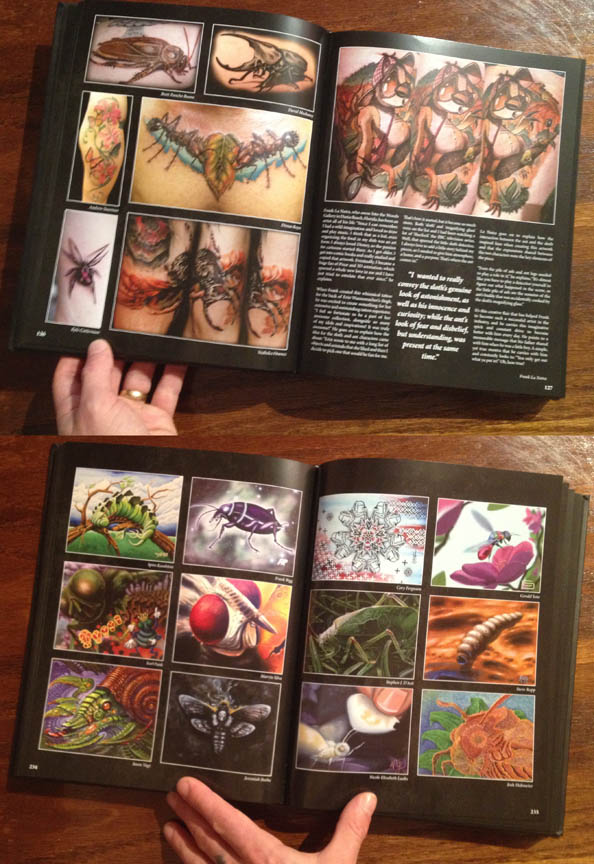 At 480 pages it's a weighty volume that will show you something new every time you pick it up. It's ideal for every tattooist's book collection and perfect for the waiting room of your tattoo studio. We are psyched to have this amazing book in our catalog- available now at our online store!
Thanks, and we'll be in touch soon!
Hyperspace Studios Seeking an Apprentice!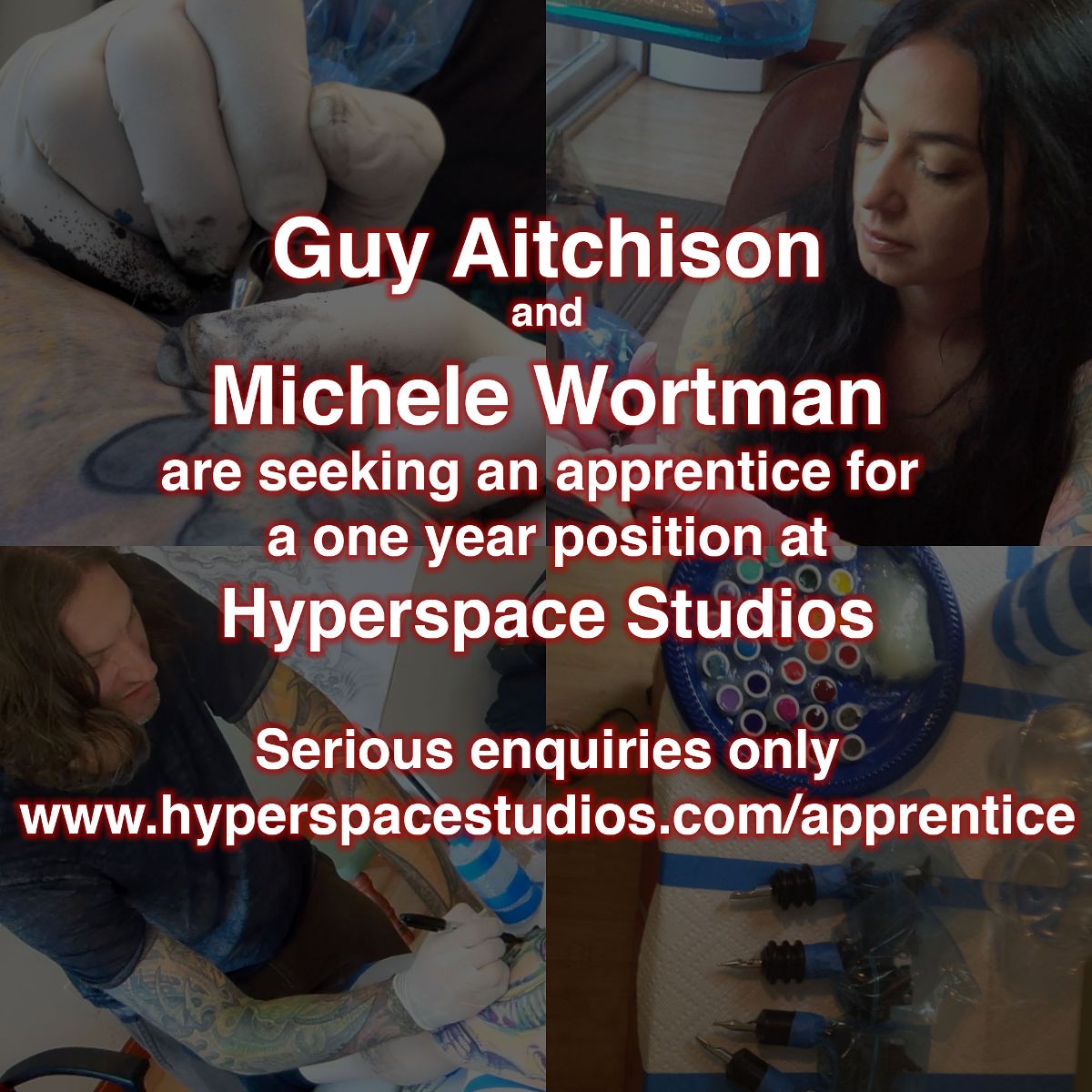 When I first started tattooing 25 years ago, I got a lucky break in being offered a proper apprenticeship at one of Chicago's more progressive shops, Bob Oslon's Custom Tattooing.It was a huge deal for me- I really wanted to learn the right way and didn't want to start out in my kitchen scratching on people. The two years I spent there were instrumental in my having the kind of foundation that allowed me to experiment and explore the tattoo medium without fear.
Although I've been involved in
www.tattooeducation.com
for much of my career, I've never actually taken on an apprentice in this traditional manner. Now it's time.
Michele
and I are looking for someone with a strong artistic background who wants to learn the tattoo medium in our private, cutting-edge studio environment. It will be a one year position with a curriculum spanning the full range of artistic, technical and professional aspects of tattooing. Although we are reaching out now, the position will be starting in late Spring or early Summer of 2014. If you believe you are the right person for this apprenticeship, go to our
apprentice page
for more information, or to fill out our application.
Thanks, and we look forward to hearing from you!
Latest Hypercast with Russ Abbott now on Youtube, and new Ask Guy on newsstands!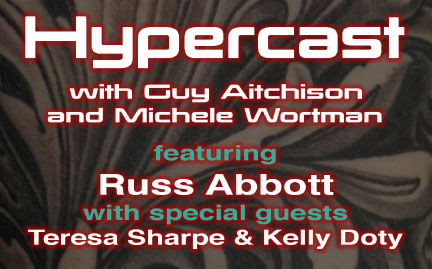 Last week's Hypercast with Russ Abbott, Teresa Sharpe and Kelly Doty ended up being an epic conversation, stretching to close to two hours and covering a broad range of topics, including audience questions and some tattoo critiques. This time, just for fun Michele and I submitted works for critique as well. It goes to show that no matter how experienced you are there are many things that you can learn and improve.
This was our third Hypercast, where we are interviewing some of the industry's top talents and talking about the state of the tattoo art world, with this episode focusing on illustrative tattooing. Russ Abbott is one of the style's leading proponents and has released a number of top quality educational items, including Iron Clad: Built To Last, a DVD about technique, and Ornamental Archive, a reference book about flowing ornamental motifs that can be used in combination with other graphic elements in a tattoo. You can check out the edited version of Hypercast 3 at our YouTube channel, Tattoo Television.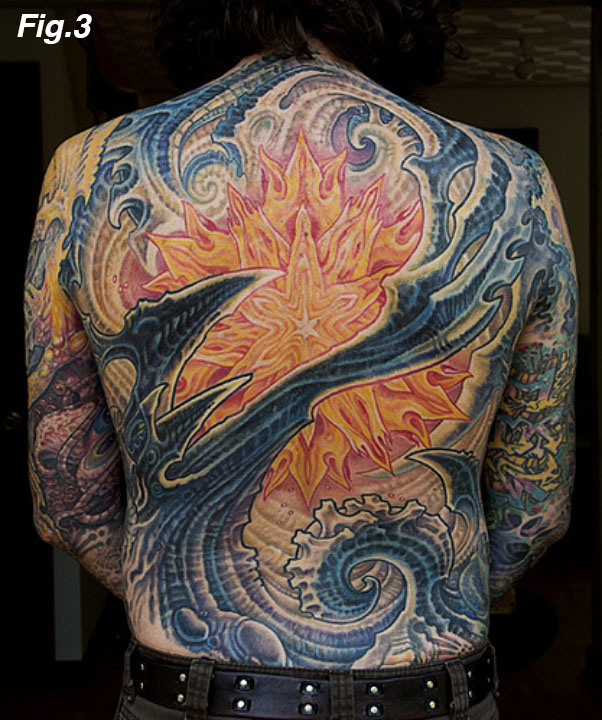 I also wanted to mention that installment #6 of my Ask Guy column in Tattoo Magazine is now on the newsstands. This month I cover two topics: Acne scarring, which is something I have dealt with personally, and dealing with clients who seem to need too want changes in a design, a delicate situation to encounter as a tattooist. You can pick up a copy at the newsstands now, check it out at Tattoo Education, or send me your own questions at the Ask Guy link there.
Thanks, and we'll be in touch soon!
Hypercast #3 Featuring Russ Abbott, Tonight!
October 27, 2013

Hypercast #3 Featuring Russ Abbott, Tonight!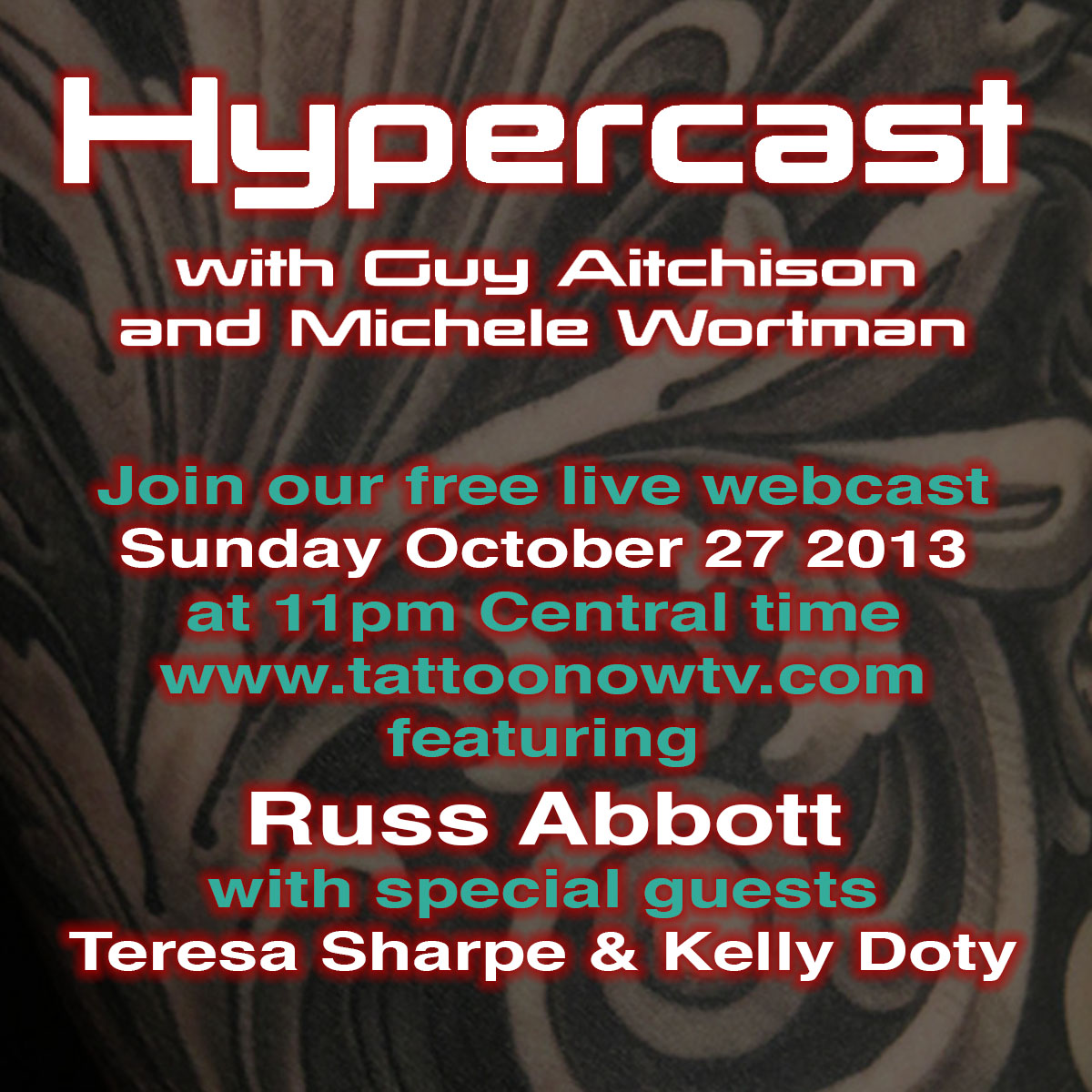 So far Michele and I have hosted two Hypercasts, the first one featuring Durb Morrison of Hell City fame, the second one with legendary realist Nikko Hurtado. Tonight we interview Russ Abbott, known for his strong illustrative sensibility which combines a solid traditional foundation with more modern techniques and approaches. We'll be interviewing him about his new book, Ornamental Archive, and his upcoming DVD release. We'll also have special guests joining us including Theresa Sharpe, winner of last season's Best Ink, to join us in our discussion, in taking live questions from viewers, and in critiquing a few tattoos toward the end of the show.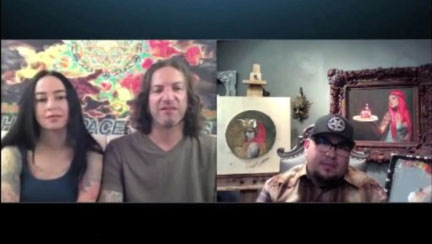 Hypercasts are a long format interview show, focusing on topics related to fine art in the tattoo world. They are available for free through TattooNOWtv- all you need is a computer an a good web connection. We also archive all episodes- you can see both the Durb Morrison episode and the Nikko Hurtado episode at our YouTube channel, Tattoo Television. And if you are in the LA area, definitely take a look at the Nikko episode, where he discusses his current gallery show at the Copro Gallery.
Thanks, and we hope you can join us for tonight's Hypercast!
Posted from
Tattoo Education
Nikko Hurtado Webcast Tonight
October 16, 2013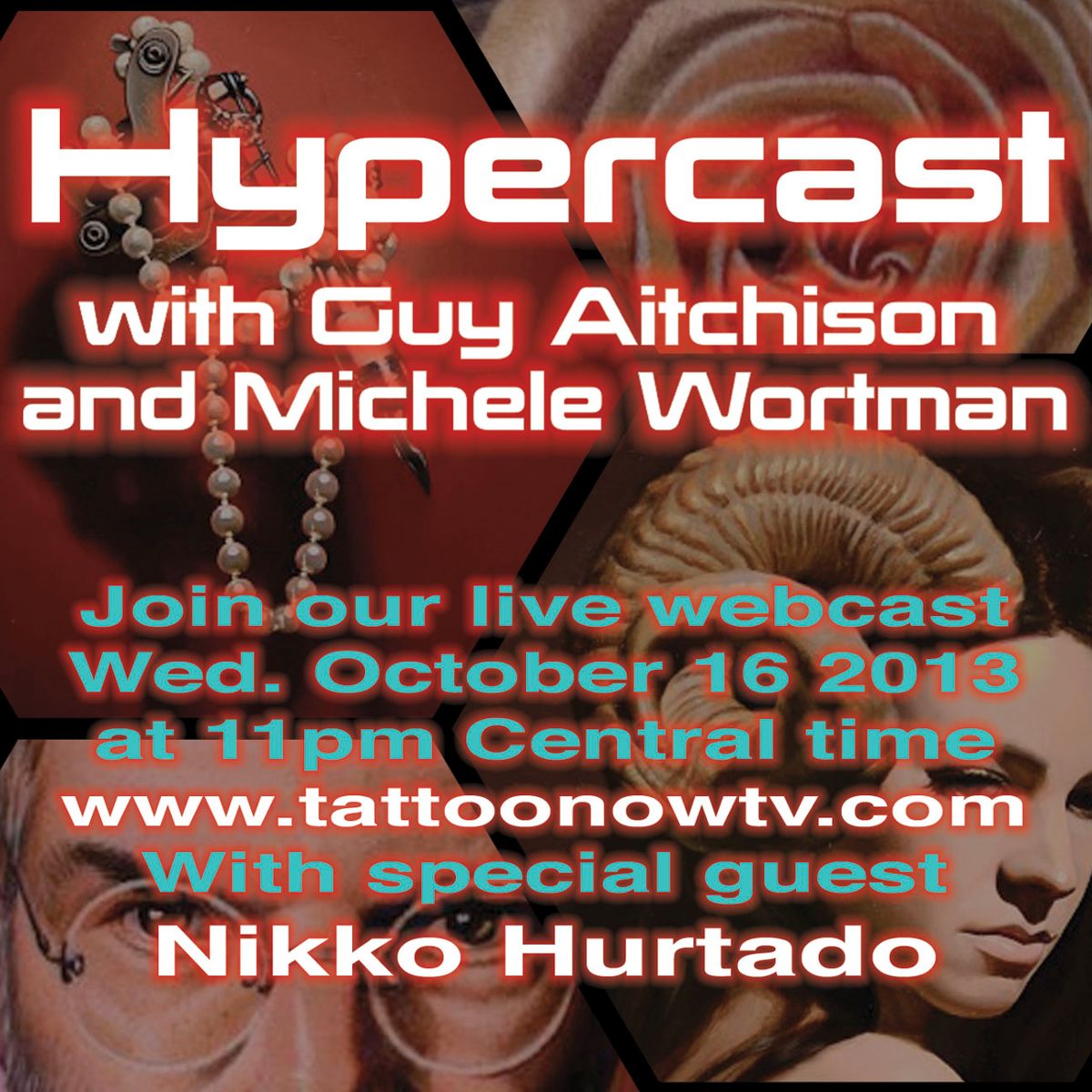 Michele and I are excited about the results of our first Hypercast that we hosted two weeks ago, with guests Durb Morrison and Mike Cole. We interviewed them and discussed the crossover of fine art and tattooing, and how second mediums can enhance a tattooist's career. We then wrapped things up with a few audience questions and tattoo critiques. It's on archive permanently now for you to check out any time you want.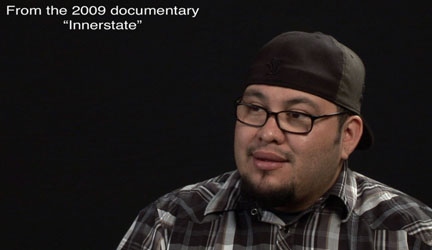 The second episode broadcasts tonight, Wednesday October 16. This week we are interviewing Nikko Hurtado, whose reputation has exploded lately as the public has discovered his almost unbelievable realism skills in both tattoo and oil paint. His Tattooing De Los Muertos DVD has been a bestseller at our store since its release. We've known Nikko since his very first paintings and have stood back in awe as he has embraced this classic medium and mastered it in just a few short years. He currently has a solo exhibition of new work showing at the Copro Nason gallery in Los Angeles. We'll be talking with him about galleries, painting, tattooing, the industry, and where realism is going next. You can tune in at TattooNOWtv tonight at 11:00pm Central time, or you can watch an archived cut of the show starting this Friday at our YouTube channel, Tattoo Television.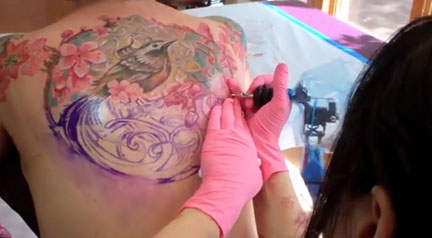 Speaking of YouTube, Michele has just completed another short client portrait video starring her client Sabrina, who has collected half sleeves and an upper backpiece from her. It's a great little video documenting Sabrina's journey from having a small flash tattoo to collecting larger work, lasering and covering the old piece, and then bringing it all together into a single unified look. Come check out the video, Woodland Window, at Tattoo Television.
Thanks, and we'll be in touch soon!
Posted from
Tattoo Education
Webcast Interview
October 4, 2013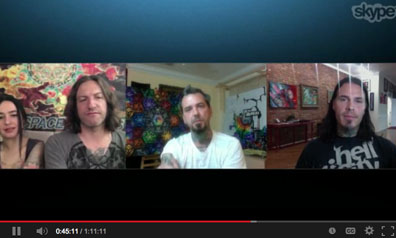 Michele and I have been talking about doing a webcast interview show for a long time. We have such an amazing community of fellow artists and original thinkers around us, it has always felt like something that we needed to do. We've finally had our first episode, which some of you were able to catch this past Wednesday night at tattooNOWtv. It was a great show featuring an interview with Hell City's Durb Morrison, who has always put a high emphasis on the fine art aspect of tattooing, both in his studio and his convention, which is the best attended tattoo show in America. We also had special guest Mike Cole, who is not only an incredible tattooist but is doing a lot of mind-blowing paintings as well. Finally we wrapped up the show with some audience questions and tattoo critiques.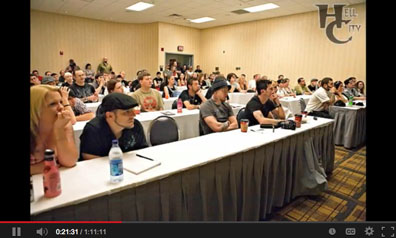 It was a great first episode, which you can check out now at our youtube channel. Stay tuned for our next episode on Wednesday, Oct.16 at 11pm Central time. Our guest will be world renowned realist Nikko Hurtado, and we'll be talking with him about the epic solo painting show that he's working on now. Tune in and submit your questions for Nikko, Michele or me through the tattooNOWtv chat. Or go ahead and submit tattoo photos now for critiquing on the air.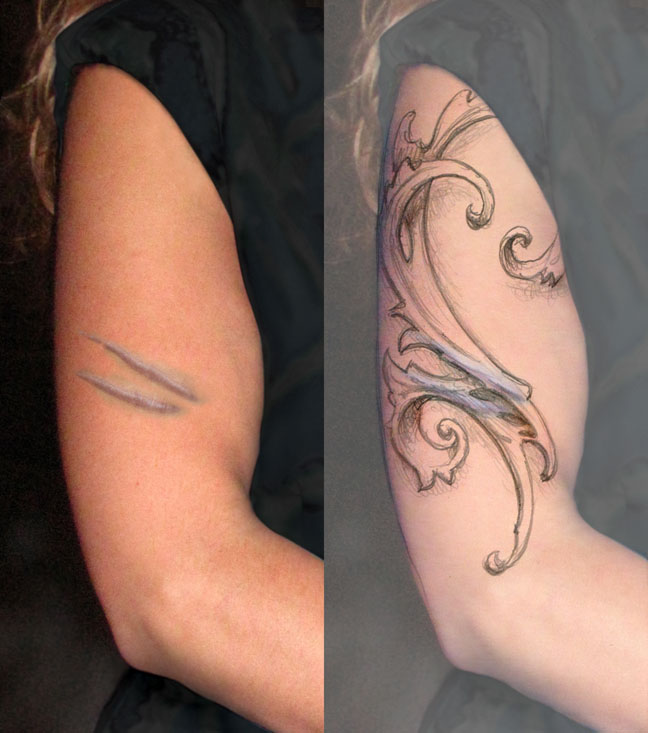 Also this week we have a new installment of my column, Ask Guy, in Tattoo Magazine. This issue focuses on various kinds of scars and how best to cover them with tattoos. Scarring can be a challenging obstacle for both clients and artists, but there are answers to these puzzles. Check out this month's article either at the newsstand or at guyaitchison.com, and don't be shy about submitting your own questions- you are the ones that make this column possible, after all.
Thanks, and we'll be in touch soon!
Introducing Hypercast with Guy Aitchison and Michele Wortman
Join Guy and Michele at 11pm Central time every other Wednesday for Hypercast, a live webcast show featuring interviews, portfolio reviews and other subjects related to tattooing and the fine art coming from the tattoo community. Webcasting is being provided by TattooNOW through their online channel, www.tattoonowtv.com, where you can submit questions during the program via the tattooNOWtv chat.
Ask your questions in the chat room!
New Hyperspace Studios website!
Greetings, and welcome to the new Hyperspace Studios website! Multimedia artists Guy Aitchison and Michele Wortman have maintained hyperspacestudios.com since 1996, and it has gone through many changes and additions during that period. This time, the site has been rebuilt from scratch, featuring a streamlined interface that navigates easily so you can enjoy the wide variety of creative content that we have here.
Check out our brand new and updated galleries, featuring work in a variety of mediums by both Guy and Michele,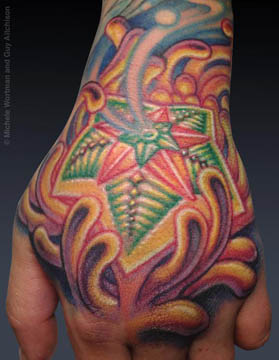 our archive of tattoo magazine articles and features going from present day back to 1989, with engaging interviews and photos that you won't find in any other galleries,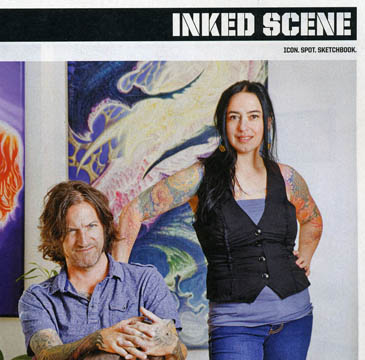 Our video vault, hosting short documentary and music video work produced by Michele and Guy,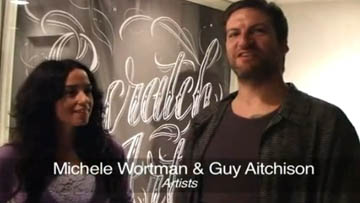 Concise new interface for Reinventing The Tattoo owners to access the book's online features, including the newly updated member forums,
Plus the Hyperspace Studios online store, where we carry books and DVDs about tattooing and related art subjects, along with high-quality art prints, wearable items, and a bunch of other fun stuff.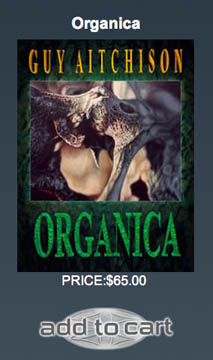 This update has been long in the making, and we hope you enjoy navigating through the new site!
New website!
Greetings, and welcome to MicheleWortman.com. This is the first blog at my new site. Here you can take a look at paintings, bodyset and singular tattoos for women, and photography of subjects that inspire me, along with a collection of figurative sketches that I have done over the years. You can also listen to my music project Sunchannel and check out the music videos.
Recently I was featured in Inked Magazine discussing the distinct approach to tattooing that my work is known for, and colorful partnership with fellow artist Guy Aitchison, the other half of Hyperspace Studios. Here's a brief excerpt from the article:
INKED: Would you say your style is more feminine?
MICHELE: It's interesting you should say that because, originally, I had wanted a half sleeve of flowers and this girl looked at me, rolled her eyes and said, "You would get that. How typical of you." That bothered me, so I decided I would rebel against my "feminine nature" and get architecture, which is very masculine in my opinion, very man-made. The fact that I rebelled against my feminine nature in the beginning only to come back to it later was an interesting lesson for me...
(Read more)
I am currently taking new appointments for spring and summer, as well as painting commissions.
Stay tuned, join my mailing list, and check back regularly to see updates to the site and my latest blog.
Thanks and happy winter,
Michele Wortman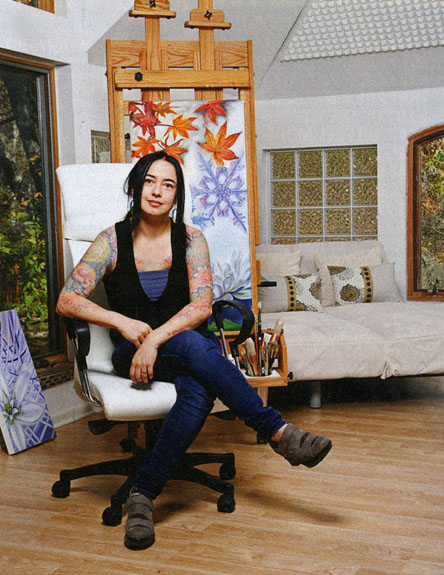 Photo by David Torrence
Posted from
Michele Wortman
Featured Article in Inked Magazine
December 7, 2012
Greetings from Hyperspace Studios and Tattoo Education!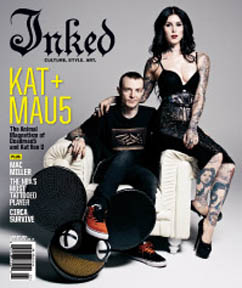 Although Michele and I have been featured in quite a few magazines over the years, on only a few occasions have we shared articles. So we're excited to announce our new feature in the December issue of Inked magazine. Inked is a NY based publication that's done a bit differently than most of the familiar tattoo magazines, with a large emphasis on style and culture. This is the first time we've worked with them, although we're quite familiar with their writer, Marisa Kakoulas, who had a guest blog at Tattoo Education several months back. The issue is on the newsstands now, or you can check it out online.

We also want to remind you that we have a variety of unique gift packages available at Hyperspace Studios, and can help make your holiday shopping easier and keep it affordable. For starters, we have a number of great book packages, such as The Book Jamboree Gift Pack, which includes Organica, Moments Of Epiphany, Scratch Art, and both the Guy Aitchison and Michele Wortman art card sets. In addition, we have a variety of mixed packages with art books, wearable items and some fun stocking stuffers, like with the Guy Aitchison Gift Pack or the Michele Wortman Gift Pack, which include our art books along with shirts, cards, prints, and music.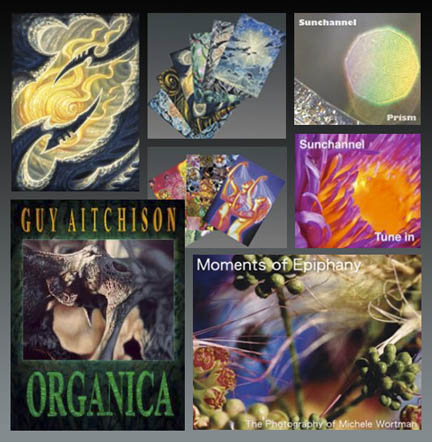 Then, at Tattoo Education, we have high quality educational packages such as the Tattoo Education Combo Pack, which brings together Reinventing The Tattoo, our most comprehensive package featuring a 368 page book about all aspects of design and technique, plus a detailed DVD that is designed to integrate with the lessons in the book; in addition, this package features Standards Of Practice by Health Educators, the definitive DVD about cross contamination prevention.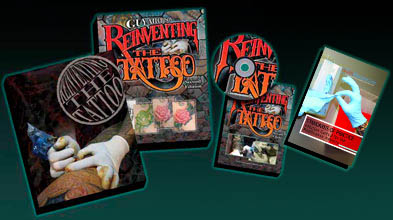 We also have the Tattoo Community Project Pack, which includes Scratch Art, the Innerstate book and DVD, Pint Size Paintings, and the ArtFusion documentary. These items feature work by hundreds of tattoo artists at their most creative and energized, and are a reminder to all of us of what we can be capable of when we push ourselves past our comfort zones.

We've got a lot of other great stuff at both stores, both for artists and collectors, and we're offering these package deals to help you stretch your holiday dollar a little further. We're guaranteeing shipping in time for Christmas on all US orders placed by December 16.

Thanks, and we'll be in touch soon!

Guy Aitchison
Michele Wortman

www.hyperspacestudios.com
www.tattooeducation.com
Posted from
Tattoo Education
The Paradise Artist Retreat
October 16, 2012
Greetings from Tattoo Education!
For as long as Michele and I have been traveling together to tattoo conventions, we've always had an interest in being involved in side projects, events that brought together tattooists who have interests in other art forms besides skin. Several of these projects were alongside major tattoo conventions, taking advantage of the fact that so many artists were already traveling to be under one roof. More recently, we've been involved alongside TattooNow's Gabe Ripley in the Paradise Artist Retreat, which is a stand-alone fine art event catered to the tattoo industry.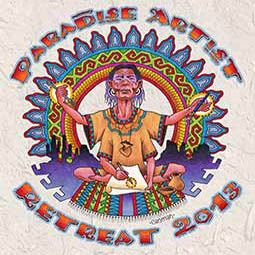 The first Retreat happened in late 2010 in Massachusetts, and brought together a diverse group of talent to take part in a stellar array of classes, workshops and seminars. Parenting duties caused us to miss the second one... But coming in March of 2013 we'll be co-hosting the third Retreat, this time in New Mexico. As with the first Retreat, we'll be starting each day with a live figure drawing workshop before embarking on that day's workshops, then closing each day with a high-powered panel talk followed by open studio time. This time, though, we've expanded the curriculum to include several well known visionary artists from outside the tattoo world including noted dark surrealist Chet Zar, and world-renowned visionary artists Alex and Allyson Grey.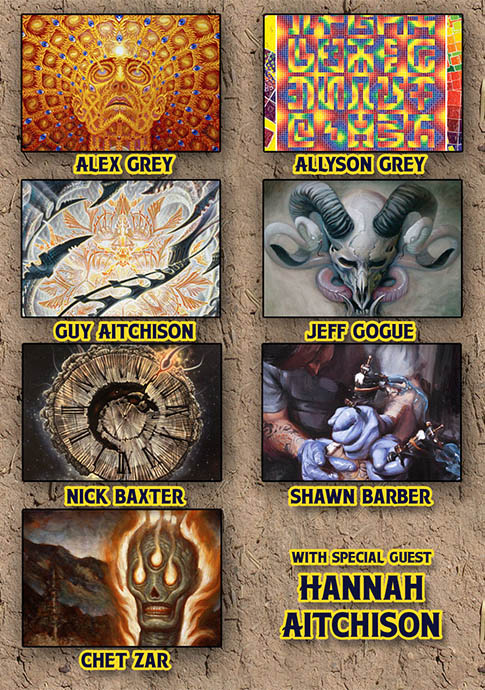 Michele and I met the Greys at a workshop they were giving at the Omega Center in upstate NewYork, back in 1999. The class was intended to help artists open up their visualization process, expand their vocabularies, and empower them to dig deeper into their imaginations. We enjoyed the class so much, and enjoyed their unique style of teaching, that we ended up going back a second time. Since then, we've had the honor of painting alongside them on a number of occasions, including some tattoo events, the most recent one at their CoSM gallery in upstate New York. The two of them incorporate a deep historical perspective into some truly novel modern approaches, and have a lot to offer for anyone looking to expand their skills.
Thanks much, and we'll be in touch soon!
Tattoo Education
Pre-Order Guy Aitchison's Reinventing the Tattoo Second Edition now!
Guy Aitchison is proud to announce, after over 3 years of work, you can
pre-order the second edition of Reinventing The Tattoo
. In this long-awaited second edition to his educational book, he has upgraded the format to a full-color, 368 page hardcover boxed edition, including a DVD with 40 detailed video clips that relate directly to material in the book. Rather than being a simple A-Z guide, Reinventing The Tattoo taps into Guy's unique vision and his 20 years in the tattoo profession to provide an inside look into what it takes to improve your overall artistic ability and to put these skills to work on skin to get the results that you want. Although still following the same basic format as the first edition, the text has been trimmed down, cleaned up, expanded, illustrated and captioned to make for an educational experience unlike anything else available in the tattoo industry. Whether you're an experienced professional or an apprentice working in a supervised setting, this book and DVD can provide you with valuable new tools for improving your work. Reinventing The Tattoo is for professional tattooists only! $250 *PLEASE NOTE, THIS BOOK WILL NOT SHIP UNTIL 2/27/09*
http://www.hyperspacestudios.com/catalog/product_info.php?cPath=32&products_id=249
Reserve your copy today!
Live visionary painting by Alex Grey, Allyson Grey, Guy Aitchison, and Michele Wortman in Maimi this weekend!
This year we've had the chance to be involved in a lot of great events… and we're capping it off with one final live painting performance this December. On the 4th through the 7th of this month, CoSM, Moksha Family and Community Arts & Culture will be hosting The Visionary Art Of Alex Grey, in conjunction with the Art Basel festival in Miami. This event will begin on Thursday the 4th with a gallery opening, followed by a panel discussion featuring Alex Grey, Allyson Grey, Guy Aitchison, Michele Wortman, Prof. Manolo Torres and Donna Torres. The talk will focus on entheogens, the visionary experience and the art that is inspired by this, and will be followed by an audience Q&A. On Friday the 5th, Alex and Allyson will be holding a benefit night for the Chapel of Sacred Mirrors, which will feature Alex's famous visionary art presentation. Then on Saturday the 6th will be the main event, which will start at 7pm and go all night. This will be an evening of live painting performance by Alex Grey, Allyson Grey, Guy Aitchison and Michele Wortman, along with a vibrant lineup of DJ's, live music performers and video artists. It promises to be a high-powered sensory experience. On all days of this event, the gallery is open for free. Guy and Michele plan on bringing some affordable originals and reproductions, perfect as gifts for your favorite tattoo fan. Tickets are required for the evening events, and pre-sale tickets are recommended. Click here for more information on ticket sales or other details about the weekend. You can also email the promoters at info@mokshafamily.org or call them at (305)757-7727.
Win a FREE Tattoo from GUY AITCHISON
Guy Aitchison has long been known for his stand-alone tattoo style and his innovative techniques. For several years now, the waiting list to get tattooed by this modern legend has been all but closed to anyone but his established regular clients. This Spring, Guy is having a raffle-style contest where the winner will get a free 4-hour tattoo from him, to be given at the Hell City Tattoo Festival in Columbus, Ohiothe weekend of May 16-18. That's a tattoo valued at $1000, but more importantly, a chance to get an appointment from one of the most inaccessible tattoo artists operating today. There will be a A second and third prize offered as well: second prize will be one of Guy's canvas art prints (retail value $200) and third prize will be a choice of either Guy's art book Organica or Michele Wortman's photography book Moments Of Epiphany (retail value $65). Winner will be selected randomly. Contest results will be announced at the Hyperspace Studios website on May 1. Only 1 entry allowed per person. In addition to the tattoo contest, Guy and his wife and partner Michele Wortman will be hosting a number of different events at the Hell City show, including some live painting performances and a book release party for a new tattoo community book project, Scratch Art. This convention will be one of the most exciting tattoo events all year, so be sure not to miss it! If you can't make it, though, the Scratch Art book will be available through Guy and Michele's website, www.hyperspacestudios.com, along with their groundbreaking art books, Organica and Moments of Epiphany, and Guy's bestselling educational volume, Reinventing The Tattoo. Be sure to sign up for our newsletter for announcements of any future book releases and other events that Guy and Michele are participating in.
Guy on LA Ink this Thursday!
A couple months back, Guy and Michele made a trip out to Los Angeles, partly for a painting performance and partly so Guy could appear in a guest spot at Kat Von D's tattoo shop in Hollywood, for the purpose of filming an episode of TLC's hit TV show LA Ink. Guy's sister Hannah Aitchison has been a cast member of the show since its pilot last year, and has been impressing the viewers in TV land with her stunning figurative tattoo work. For the episode with Guy, brother and sister teamed up to do a large collaborative backpiece project, which they completed in one intensive visit. That same week, Guy also did a biomechanical 3/4 sleeve as well, also under imposing time limitations. We can't show you these pieces here because the show hasn't aired yet- but if you tune in to TLC this coming Thursday the 27th, you can check out these two epic projects.