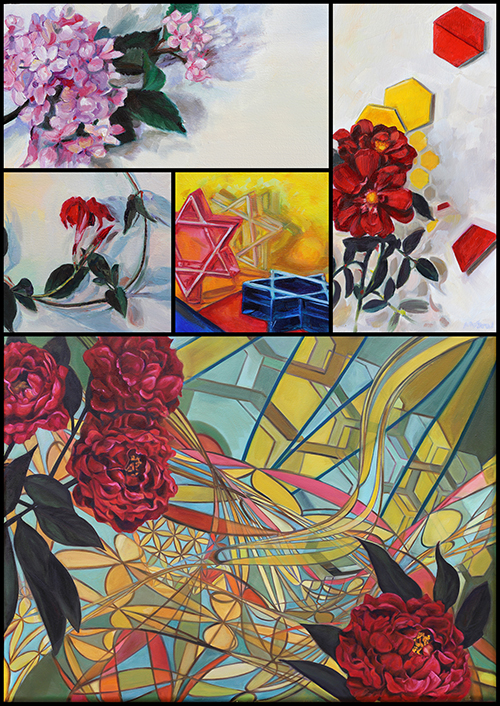 Five New Specially Priced Michele Wortman Prints
For today's Christmas gift offering we have five new fine art prints from Michele Wortman spanning a range of sizes, styles and prices, most of them on archival canvas. The largest of them is Flower of Life, inspired by hypnotic sacred geometry patterns which has been moved and shaped into an abstract environment for a group of vibrant blossoms. She also has a couple smaller prints featuring bold red blooms: Mandevilla, a quiet square composition, and Roses and Shapes, a tall rectangular piece perfect for unusual spaces. Pink Hydrangeas is also on a narrow aspect ratio, this one made for horizontal spaces and featuring a rich palette of pinks contrasted against airy gray-greens. The smallest of the prints is Star, printed on heavyweight archival art paper. All five of these prints make perfect gifts, and are available now in the Hyperspace print gallery.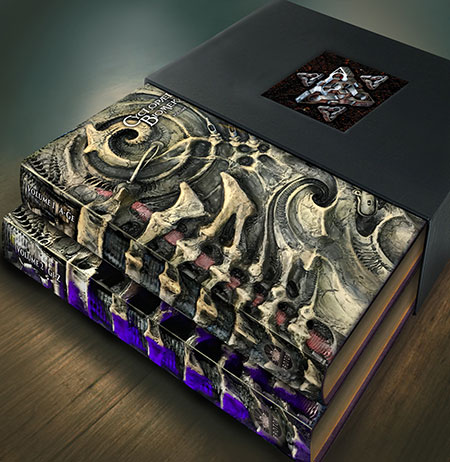 The Biomech Encyclopedia: Our Top Holiday Offering
One of our top offerings this holiday season is The Biomech Encyclopedia. It's a two-volume boxed edition featuring over 600 pages of biomechanical art of all types and styles, created by a list of around 150 artists working both solo and in collaboration. The Encyclopedia touches on every facet of biomechanical art from root design principles on up to creating your own unique bandwidth of personalized bio. It explores every medium including tattoo, paint, digital and sculpture plus countless multimedia mixes of all types. For both artists and fans alike, The Biomech Encyclopedia is meant to serve as education, entertainment and inspiration, and makes a perfect gift for this time of year when creative people are stuck inside searching for exciting new things to try. Available now!

Michele Wortman's Annual Christmas Print Special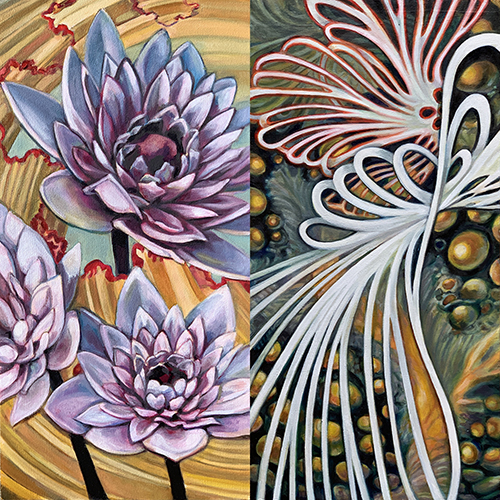 Small art prints make perfect gifts! Michele just finished two new paintings and is offering them as signed 25 dollar mini prints on archival canvas as a special for the holidays. Pictured here are both of them, available as a set. On the left is Around The Sun; as MIchele was painting she remembered that a year prior she was finishing up Bloom Cycle, and this new piece seemed full circle with regards to her Christmas birthday -a reflection and completion of a year, another trip around the sun. One the right is its companion piece, Ribbons. The ribbons are threads of energy. As the skeletal flower/spore fades back into space its roots continue to grow, weave and bend into the future. It's symbolic of change and resolve, as we continue to unfold and usher in the new year.
Both prints can be purchased together as a set, and are also available individually. They are specially priced for the holidays at $25 each or $50 for the set. The prints are 6x12" each plus a 1" border for mounting purposes, signed by the artist.

Posted from
Tattoo Education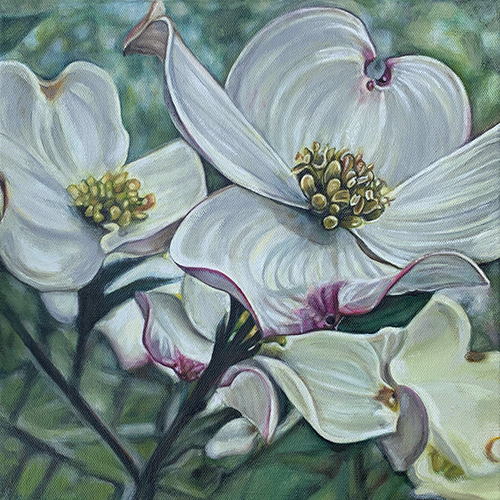 New Dogwood Blossom Canvas Art Print by Michele Wortman
Dogwood blossoms are one of the early signs of Spring; Michele Wortman has always loved them not only for this reason but for their elegant simplicity, which she captured in this oil painting simpy titled Dogwoods. The canvas art print is 12x12" plus a 1" border for mounting purposes, signed on archival canvas.

Aitchison/Clue Collab Print Available Until Tomorrow!
Guy and long time co-collaborator Jon Clue are doing a run of their Nebula print. Because it's hard to get collaborative prints signed, we usually do them in limited runs- this one ends tomorrow, May 8, around noon Central Time. It's available in both framed and unframed editions at hyperspacestudios.com/prints.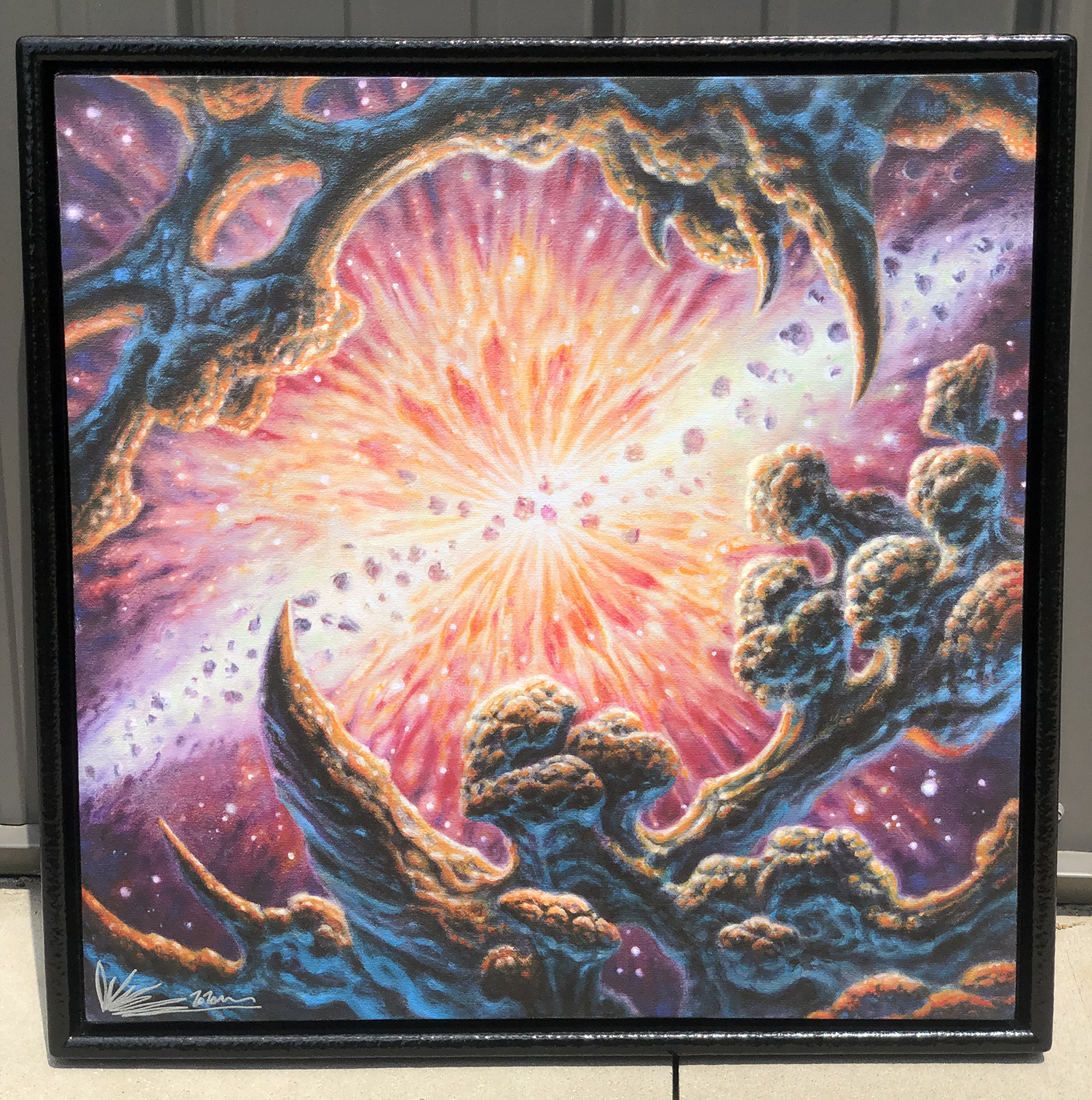 Subscribe to our Youtube Channel for all our latest video updates
©2019 Hyperspace Studios. All rights reserved.
Website powered by TattooNOW